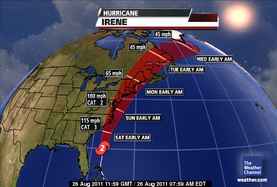 26 August 2011 – Hurricane Irene, A Category 3 Hurricane is doing a classic "Coast Walk" up the Eastern Seaboard and is expected to directly impact NYC, the NY/NJ/CT Tri-state region and the Hudson Valley corridor and up into New England on Sunday, August 28. All residents of costal and low-lying areas are advised to take appropriate cautions, and in some cases should move to higher ground till the weather emergency passes.
Download a Hurricane Preparedness Sheet (PDF) provided by our partners at Chartis.
Severe Weather News at Weather.com
Everybody please be careful out there – Stern Agency, Inc.